Helping children on their journey to heal
A Child's Light provides immediate mental health support for children and adolescents, ages 2 to 18, who have experienced severe trauma.
Following best practices and funding specially trained trauma-informed therapists, children receive the resources and tools to help them shift their severe trauma experiences to be a part of their past and not a part of their future.
In the News
Our innovative work with children was recently recognized by PA Senator Pat Toomey
Recipient of the PA Blue Ribbon Champion For Safe Kids awarded by the PA Family Safety Alliance
A Child's Light is honored to partner with The United Way of Chester County!

Our Impact
Funding early intervention and treatment helps children to heal, build positive self-esteem, improve scholastics, cease self-harm, and most importantly, stop the need for self-medication with alcohol and/or drugs.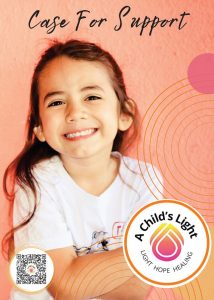 To learn more about A Child's Light, download our Case for Support brochure PDF.
Our Process
Working with many community partners, we provide a solution to the range of challenges inherent in local systems. We seek to expedite support as well as overcome financial and accessibility roadblocks.
With specially trained, trauma-informed therapists throughout Chester County, we are able to reach more children—and more quickly—to help them on their journey to heal.
Newsletter
Spring 2023 Newsletter

We are investing in our children and putting them, and our community, on a path towards a healthier and more stable society.
A copy of the official registration and financial information about A Child's Light may be obtained from the Pennsylvania Department of State by calling toll free, within Pennsylvania, 1-800-732-0999. Registration does not imply endorsement.